STRATEGIC AIR COMMAND – PARAMOUNT - COLOR June's character: Sally Holland

Somewhere right now, there's an Air Force B-52 squadron in the air. A squadron with one grim mission: to deliver a nuclear strike in case of an all-out war. STRATEGIC AIR COMMAND salutes the bravery and commitment of those men who help maintain security of the western world. Jimmy Stewart and June Allyson star as a big league baseball star and his wife who are forced to trade the glamour of bigtime sports for the anonymous existence of a bomber pilot. Also starring Frank Morgan, James Bell, Frank Lovejoy, Alex Nicol, Barry Sullivan and Bruce Bennett. Directed by Anthony Mann and produced by Samuel Briskin.

NOTE: Because of the success of The Glenn Miller Story, producers of this film wanted to recreate some of the magic from that picture by modeling the Holland's home after that of the Miller's and by bringing back James Bell to play June's father in this picture.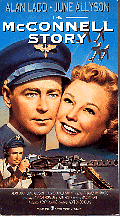 THE McCONNELL STORY – WARNER BROS. - COLOR June's character: Pearl "Butch" McConnell

As the alarm wails, Joe McConnell and his squadron of Sabre pilots thunder down the runway. In seconds they're airborne. The mission: keep enemy planes away from helicopters evacuating wounded infantrymen. The destination: the deadly corridor called MIG Alley. THE McCONNELL STORY stars Alan Ladd as true-life American war ace and jet aviation pioneer Capt. Joseph McConnell Jr. June Allyson co-stars as McConnell's devoted wife. And James Whitmore plays the commander who first recognizes McConnell's prowess as a "tiger of the sky." In war, McConnell became America's first jet ace, downing 16 enemy planes. In peace, he braved the unknown as a test pilot in the jet-era's infancy. Yet he almost didn't become a pilot at all. The Army had a spot in the Medical Corps picked out for him. The MPs had a cell in the brig for him. And when World War II Air Cadet training finally came his way, McConnell was given a B-17 navigator's compass instead of wings. But he never lost sight of his dream. And in the darting, swerving flight sequences of THE McCONNELL STORY, you'll see that dream come alive. Directed by Gordon Douglas and produced by Henry Blanke.

NOTE: Before shooting was completed on this film, Captain Joseph McConnell was tragically killed in a test pilot accident. A new ending was then written and shot for what otherwise would have been a classic love story with a lot of action.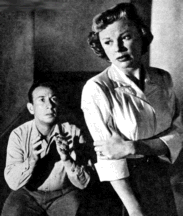 THE SHRIKE – UNIVERSAL – B&W June's character: Ann Downs

The character June plays in this movie is quite a departure from the sweet, "girl next door" type characters she portrayed up to this point. She is cast as the actress wife of a Broadway producer/writer, played by Jose Ferrer. At first, their marriage seems perfect, but as time goes by, Jose discovers he's married to a bit of a shrew. As his career sinks, so does his marriage. Even when he finds comfort in another woman's affections, June won't let him go, which drives him crazy. After he attempts suicide, June admits him into a psychiatric ward. She eventually comes to her senses in the end and decides to let him go, finally allowing him his happiness. But in true June Allyson "happy ending" style, Jose decides to make a new start with her. Directed by Jose Ferrer, produced by Aaron Rosenberg.