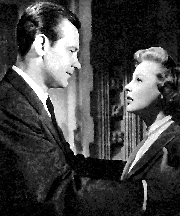 EXECUTIVE SUITE – MGM – B&W June's character: Mary Blemond Walling

Effective screen treatment of Cameron Hawley's book about wheeling and dealing in the boardroom of a giant furniture company. When the president suddenly dies, the board members vie for control, and tension mounts. The story also explores some domestic matters, but the thrust of the movie is corporate power. The film stars June Allyson, William Holden, Barbara Stanwyck, Walter Pidgeon, Fredric March, Shelley Winters, Paul Douglas, Louis Calhern, Dean Jagger and Nina Foch, one of the most spectacular casts ever assembled for the screen. Directed by Robert Wise and produced by John Houseman. The film received 5 Academy Award nominations.
THE GLENN MILLER STORY – UNIVERSAL - COLOR June's character: Helen Berger Miller

Glenn Miller is playing his terrific big band hits again in this stunning musical biography. The great Jimmy Stewart and June Allyson star in this vibrant tribute to one of America's legendary bandleaders, charting Miller's rise from obscurity and poverty to fame and wealth in the early 1940's. The wonderful score swings with original Miller music performed by the Glenn Miller Orchestra and such musical giants as Louis Armstrong, Gene Krupa, Frances Langford and the Modernaires. Rounding out the great cast are such favorites as Henry Morgan, Charles Drake, and George Tobias. Glenn Miller's dynamic sound of swing comes alive once more in this film. Directed by Anthony Mann and produced by Aaron Rosenberg.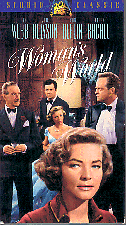 WOMAN'S WORLD – 20TH CENTURY FOX - COLOR June's character: Katie Baxter

This clever comedy/drama with a surprising element of suspense provides witty insight into the business world of another era. An incredible all-star cast - CLIFTON WEBB, JUNE ALLYSON, VAN HEFLIN, LAUREN BACALL, FRED MacMURRAY, ARLENE DAHL and CORNEL WILDE shows off "Hollywood at its commercial best." (Variety) When the president (WEBB) of a car company needs a new manager, he invites his three top executives and their wives to New York. Since he knows all the men are capable, he makes his choice based on which has the perfect wife for the job. With its wry dialogue, human situations and excellent ensemble cast, WOMAN'S WORLD is a glittery, entertaining look at the 1950's fast lane. Directed by Jean Negulesco and produced by Charles Brackett.