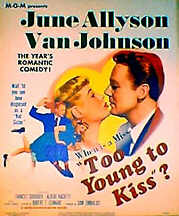 TOO YOUNG TO KISS – MGM – B&W June's character: Cynthia & Molly Potter

This movie cast June as a 22 year-old woman impersonating a 12 year-old child, and a piano prodigy to boot. Cynthia Potter (June Allyson) has wanted only one thing in her life, to be a concert pianist. After years of auditions, she finally gets the opportunity to play for New York's biggest impresario (Van Johnson) at a children's audition. Astonished by her ability, he signs June to a 5-year contract. There's only one problem, he thinks she is 12 year-old Molly, instead of 22 year-old Cynthia. As Van tries to prepare his "young" discovery for her first concert at New Symphony Hall, feelings of love develop between the two. Guilt overcomes June and she decides to reveal her true identity. This news is anything but good to her fiancÚ, a reporter who wants the scoop. Also starring are Gig Young, Paula Corday, Kathyrn Givney, Larry Keating and Hans Conried. Directed by Robert Z. Leonard, produced by Sam Zimalist.

NOTE: June won the Golden Globe Award for Best Actress in a Musical or Comedy for this film.