THE REFORMER AND THE REDHEAD – MGM – B&W June's character: Kathleen Maguire

In their second screen appearance together, June Allyson and real life husband Dick Powell play a zoo keeper's daughter and a lawyer/politician fighting against corruption in the political and corporate arenas. After her father is fired, June approaches Powell to handle his case against the Commodore, a local political and financial leader. Impressed with Powell's platform of supporting the underdog, she in turn backs his campaign for mayor. Unaware his potential backer is in fact Commodore John Parker, June eagerly sets out to get Powell elected. This leaves him torn between an assured election and the love he has for June. In the end, love prevails. The cast includes David Wayne, Cecil Kellaway, Ray Collins and Robert Keith. Directed by Melvin Frank and produced by Norman Panama.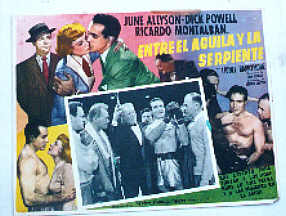 RIGHT CROSS – MGM – B&W

June's character: Pat O'Malley

The story of a prize-fighter named Johnny Monterez, played by Ricardo Montalban, and the struggles he faces while dealing with the balance between his career, which is threatened by an injury to his hand, and the relationship he is having with his promoter's daughter, played by June Allyson. Also adding to the mix, is a love triangle involving a sports reporter, who is also in love with June. Appropriately so, considering the reporter is played by June's real life husband, Dick Powell. Also starring in this movie are Lionel Barrymore, Teresa Celli, Barry Kelley, John Gallaudet, Larry Keating and a brief on screen appearance by the then unknown Marilyn Monroe. Directed by John Sturges, produced by Armand Deutsch.