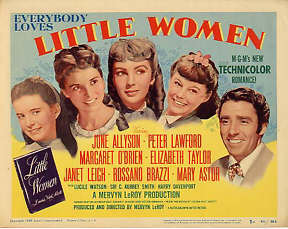 LITTLE WOMEN – MGM - COLOR June's character: Jo March

Everybody loves Little Women, the star-studded saga of four young sisters, based on the beloved Louisa May Alcott novel. The Little Women are the March sisters - Jo, Beth, Amy and Meg - who live with their mother (Mary Astor) in New England while their father is off fighting in the Civil War. Portrayed by June Allyson, Janet Leigh, Margaret O'Brien and Elizabeth Taylor, the sisters thrive in the warm and loving environment of their picture perfect home. But the calm is broken by the arrival of Laurie, the handsome grandson of a rich neighbor, played by Peter Lawford. What follows is a story of romance and rivalry, love and loss, a story that cannot end until all have gone their separate ways. The cast includes Rossano Brazzi, Lucille Watson, Sir C. Aubrey Smith and Harry Davenport. Directed and produced by Mervyn LeRoy.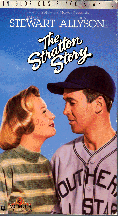 THE STRATTON STORY – MGM – B&W June's character: Ethel Stratton

Academy Award winner (1940 Best Actor for The Philadelphia Story) James Stewart stars in the real-life drama of Monty Stratton, the Chicago White Sox ballplayer who overcomes a devastating physical handicap to break all pitching records. From the semi-pro sandlots of Texas to the big league, Stratton is the most inspiring phenomenon in baseball. In 1938, his career skyrockets, but almost ends when he tragically loses a leg in a hunting accident. Though his loving wife (June Allyson) and supportive mother (four-time Oscar nominee Agnes Moorehead) stand by him through his greatest trial, it is the toddler son who restores his faith and motivates the awesome comeback which leads to being named "Most Courageous Athlete of the Year." Douglas Morrow and Guy Trosper's Academy Award-winning screenplay is a major league hit directed by Sam Wood. Produced by Jack Cummings.