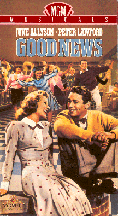 GOOD NEWS – MGM - COLOR June's Character: Connie Lane

The gone-but-not-forgotten college days of the '20s, when students wore raccoon coats, carried ukuleles and met at the malt shop, are happily brought to life again in this adaptation of the Broadway hit musical, Good News. Starring that winsome twosome, June Allyson and Peter Lawford, it's a happy-go-lucky frolic with great performances and a solid score. The light-hearted plot involves two women in love with the same man, football hero Tommy Marlowe (Lawford). One (Patricia Marshall) loves him for the wrong reasons (she thinks he's the school gold mine,) and the other (Allyson) loves him for the right reasons (she thinks he's the cat's meow.) The plot moves along at a quick pace and includes such sensational numbers as "Ladies Man" (sung by Lawford and several of the other young students, including Mel Torme,) "Pass That Peace Pipe," "The Best Things In Life Are Free" and a high-stepping flapper finale, "The Varsity Drag." Director Charles Walters keeps the action light and lively, making this one film that delivers what it promises - Good News! Produced by Arthur Freed.
HIGH BARBAREE – MGM – B&W

June's character: Nancy Fraser

This movie stars Van Johnson and June Allyson as childhood friends separated, but brought back together again in adulthood. It begins in the present with June and Van in love and about to be separated again during wartime. When Van's plane crashes in the water and he and his co-pilot find themselves stranded and drifting, Van begins telling stories of his childhood, about June, his Uncle and the enchanted island of High Barbaree, a place he always dreamed of visiting. The flashbacks take the viewer through his life as a young boy and show the close friendship he had with June until she moved away. Then years later, June returns to discover that Van has not followed his dream of becoming a doctor and tries to convince him that he needs to be true to himself or else he'll never be truly happy. June succeeds in her mission and the two eventually find themselves back together and in love. Also starring in this movie are Thomas Mitchell, Marilyn Maxwell, Claude Jarman Jr., Henry Hull, Geraldine Wall and Paul Harvey. Directed by Jack Conway, produced by Everett Riskin.