TWO SISTERS FROM BOSTON – MGM – B&W June's character: Martha Canford Chandler

Kathryn Grayson and June Allyson are Two Sisters from Boston and the toast of the New York City bar scene in this playful turn-of-the-century musical classic. Abigail Chandler (Grayson) is known throughout the bowery as pretty little songbird High-C Susie, but her very proper Boston relatives think she's an accomplished opera singer. So, when the family comes to town to watch her perform, Abigail must try to pass herself off as the superstar of the Met while her little sister Martha (Allyson) takes her place at the beer hall. Can a plan like this bring the girls anything but trouble? It can if Abigail manages to escape the wrath of the great Ostrum (Wagnerian legend Lauritz Melchior) when she pops out from the chorus and improvises cadenzas during his aria! With song-filled antics galore and a hilarious performance from the man with a heart as big as his nose (Jimmy Durante is his first dancing role,) Two Sisters from Boston is "one of the smoothest, most delightful comedies" (L. A. Examiner) in Hollywood history. Also starring Peter Lawford. Directed by Henry Koster, produced by Joe Pasternak.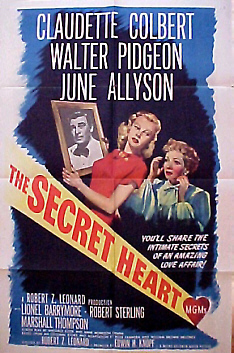 THE SECRET HEART – MGM – B&W

June's character: Penny Addams

This story casts Claudette Colbert as a widow raising her husband's children after he commits suicide. Eight years after his death, we find the son home from WWII and the daughter, a musical protégé played by June, suffering from psychological problems due to her father's death. Secrets and rumors lead this family back to the country to mend old wounds, but in the meantime, new ones arise, as the truth about their father's death is revealed. Also starring in this movie are Walter Pidgeon, Lionel Barrymore, Marshall Thompson, Robert Sterling, Patricia Medina, Elizabeth Patterson, Richard Derr and Eily Maylon. Directed by Richard Z. Leonard, produced by Edwin H. Knopf.
TILL THE CLOUDS ROLL BY – MGM - COLOR
June's character: Guest Star
The life and times of legendary American composer Jerome Kern are brought to the screen in grand, entertaining style in this lavish all-star musical biography. Starring Robert Walker as the boyishly exuberant songwriter and Judy Garland as Ziegfeld star Marilyn Miller, it vividly dramatizes both his personal and professional triumphs, and features some of his best-loved tunes performed by a stunning array of guest stars, including June Allyson singing the lively song "Cleopatterer," Frank Sinatra and Lena Horne. Directed by Robert Whorf, musical numbers staged by Vincente Minnelli and produced by Arthur Freed.