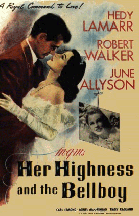 HER HIGHNESS AND THE BELLBOY – MGM – B&W June's character: Leslie Odell

The story of a bellboy, played by Robert Walker, who becomes enchanted by a Princess, played by Hedy Lamarr, staying at the hotel where he works. While at home in his apartment building, his best friend, an invalid, played by June Allyson, sits patiently by waiting for him to realize she's the girl for him. June sings the hit song, "Honey," in this movie, which also stars Rags Ragland, Agnes Moorehead, Carl Esmond, Ludwig Stossel and Warner Anderson. Directed by Richard Thorpe, produced by Joe Pasternak.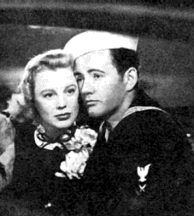 THE SAILOR TAKES A WIFE – MGM – B&W
June's character: Mary Hill
As the second film starring Robert Walker and June Allyson, this movie revolves around those quick courtships and spontaneous weddings during WWII. June plays a young girl swept off her feet by a young sailor, Robert Walker. They meet and marry all in the same evening with no time for a honeymoon before he's forced to ship out again. While she's setting up housekeeping, he returns to her as a civilian after being discharged from the Navy for medical reasons. Reality sets in, as they try to make the marriage work. They meet with a few obstacles, a beautiful refugee woman who lives in their apartment building and June's boss, who tries to break the couple up, so she'll marry him. Also starring in this movie are Hume Cronyn, Eddie "Rochester" Anderson and Audrey Totter. Directed by Richard Whorf, produced by Edwin H. Knopf.