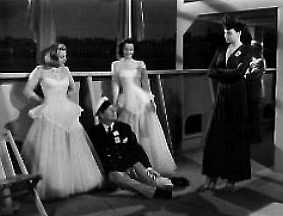 MEET THE PEOPLE – MGM – B&W
June's character: Annie
Dick Powell, Lucille Ball, Bert Lahr and Virginia O'Brien star in Meet the People, a movie about shipyard workers during WWII. Lucille Ball plays an actress who comes to the shipyards, in order to award first prize in a war bond selling contest, a date with her. The winner is none other than crooner, Dick Powell. On their date, Powell tells her about a musical he and his brother have written. She becomes interested in it and decides she wants to star in the show. A romance develops, and although creative conflicts arise, all is well in the end. June Allyson has a bit part in this movie directed by Charles Riesner. She's as adorable as ever in her musical number, "I'd Like to Recognize the Tune." Produced by songwriter E.Y. Harburg.
TWO GIRLS AND A SAILOR – MGM – B&W
June's character: Patsy Deyo
In their first leading roles, June Allyson and Gloria DeHaven are delightfully enchanting as Patsy and Jean Deyo, a singing-dancing sister act. The girls entertain servicemen at their home canteen when they are not headlining the New York Club Floriano. But when handsome sailor John Brown (Van Johnson) introduces himself, their dreams really start coming true. Soon after, a mysterious "somebody" buys the girls an empty warehouse, where they open up the ideal canteen. First-rate performances by Lena Horne, Gracie Allen (performing her "Concerto for Index Finger") and Jose Iturbi, with musical accompaniment from Harry James' and Xavier Cugat's orchestras, keep the joint jumpin'. And when the sisters find out who their "somebody" is, love is only a heartbeat away. A special added treat is the appearance of Jimmy Durante as forgotten vaudevillian Billy Kipp, who sings, gags and guffaws his way back into the limelight at the canteen. With music to make you swing and songs to make you sing, this stylish romantic comedy offers a lifetime of entertainment. A nostalgic, song-filled romp from the Heyday of the Hollywood Musical! Directed by Richard Thorpe, produced by Joe Pasternak.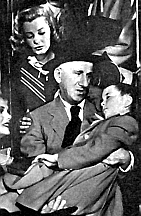 MUSIC FOR MILLIONS – MGM – B&W
June's character: Barbara Ainsworth
A touching WWII story set against the backdrop of a symphony orchestra left with mostly women musicians while the men are off at war. June Allyson stars as a cellist/newlywed, who's expecting her first child while worrying about her husband overseas. Margaret O'Brien plays June's baby sister. The story revolves around June's fellow musicians trying to keep a dreaded "we regret to inform you" telegram away from her until after the birth of her child. The movie also stars Jimmy Durante and Jose Iturbi. Directed by Henry Koster and produced by Joe Pasternak.